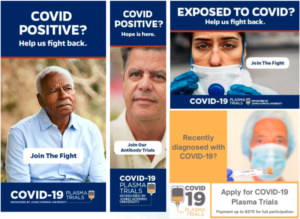 Challenge:
Between the daily politicization of COVID-19 information, many competing clinical trials, media/search engine restrictions on COVID-19, JHU's clinical trials into using convalescent plasma as a potential treatment were suffering from underperforming recruitment and enrollment.
Solution: PESO + Technology Integrated Plan
PAID MEDIA: Agile combination digital and traditional channels. Used Audience Architecture mapping at the local level to deploy tactics targeting specific audiences, cultures and languages.
EARNED MEDIA: Media coverage in both national and local. Emphasis on Black media and Spanish-speaking audiences.
COMMUNITY OUTREACH: As part of a grass-tops community organizing strategy, we secured announcements and meetings with local community organizations, such as YMCAs, local Depts of Public Health and PTAs to drive further awareness and lead generation.
OWNED MEDIA: A powerful candidate management platform and optimized website to manage leads to candidate status throughout the process. Chatbot for FAQs. HIPPA-compliant call center that can be reached directly and pre-screens candidates for the trial, reducing site burden.